Jomar Guzman
BLACK MAMBA. Jomar has one of the best pushes in the game... He's light and can take corners fast, and his father owns one of the fastest drag cars in Puerto Rico. Racing is in his blood. Jomar has lean for days, and lines for years.
De los detalles que mas me gustan de AeraTrucks es lo liviano, ya que se me hace mas fácil maniobrar con mi tabla como por ejemplo hacer Slides. Me gusta lo fuerte que son y la variedad de combinaciones de baseplates, hanguer y axels distintas que puedes montar de acuerdo a tu gusto y al lugar donde piensas usarlos. Es por esos detalles que me gustan y patino Aera Trucks !
Take a look at the Catalina Classic 2014 course with Kevin Reimer
Read More
Jose and Jomar Guzman at Canta Gallo Downhill
Read More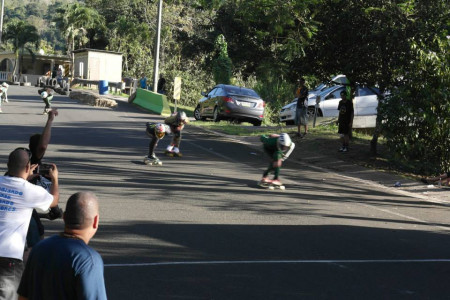 Brothers of fire! These two local Puerto Ricans are unstoppable. Hailing from Quebradillas the brothers travel the island of PR hunting for wins at all the races and are seeming unstoppable.
Read More
Team